Application Development: Spatial Data Infrastructure
Modern, sustainable GIS concepts are vendor independent and standards compliant.
All webbased projects of Intevation GmbH mainly focus open standards within Spatial Data Infrastructures (SDI). Geodata-services communicate with standard-methods
The term Spatial Data Infrastructure means more to us than making data available via various services. We include the compilation of data, their maintenance as well as the incorporation of special applications.
Securing SDI becomes more and more important within these days. User- and group-rights-management on the one hand and accounting-methods on the other hand are used successfully in many projects by Intevation now.
Example references
Installation package of BKG GeoWebServer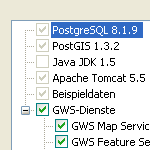 The Federal Agency of Cartography and Geodesy has assigned Intevation GmbH and its partner lat/lon GmbH to create an easy-to-install GeoWebServer for creating nodes for Geospatial data infrastructures (GDI). The deegree-framework and the database PostgreSQL/PostGIS are forming a powerfull backend for the GeoWebServer. Intevation has developed an installer for Windows and GNU/Linux. This focuses the easy installation of a working GDI-node with only a few mouse-clicks. More ...