Application Development: Spatial Database
For the management and efficient use of complex or comprehensive vector geo-data it is virtually impossible to get around without a spatial database. Apart from efficient storage it offers the opportunity to formulate spatial analysis and spatial operations via the database langugae SQL.
Sample References
Hoko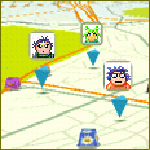 Hoko is a server suite for Mobile Location-based Services and data processing: The server can pull data from network provider's positioning systems, store positions in a database and perform spatial analysis on the data. More ...